OWNING A LARGE LANDBANK, BAF CONTINUOUSLY CONSTRUCTS MORE MODERN FARMS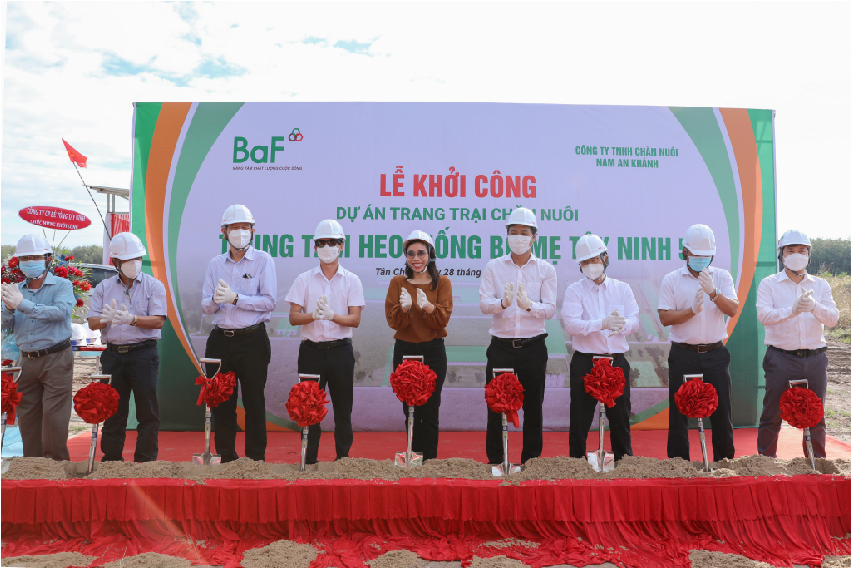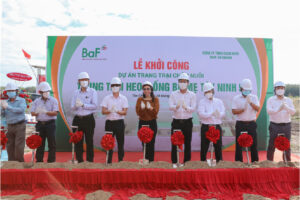 On December 28, 2021, BaF Vietnam Agriculture Joint Stock Company (BaF, Company) successfully held the Groundbreaking Ceremony to build 02 commercial sow and pig meat Farm projects in Tan Chau district, Tay Ninh province. The total scale of the 2 projects located in Suoi Ngo and Tan Hoi communes of BaF is up to 35.1 ha, helping the Company's Livestock scale increase by 30,000 pigs and 5,000 sows per year. As the leading company in 3F (Feed-Farm-Food) closed modern Livestock industry, a series of modern factories and Farms were constructed to improve production capacity showing the determination of BaF. All thanks to the large land bank the company owns – Something that many other Livestock businesses in the same industry are extremely wishing for.
In the last week of December, in Tan Chau (Tay Ninh province), BaF's leadership (HOSE: BAF) together started two Livestock Farm projects located in Suoi Ngo and Tan Hoi communes. These Farms were started with the goal of continuing to strengthen BaF's outstanding competitiveness, improve the husbandry – production capacity to conquer big goals on the journey to become a leading enterprise in the field of modern closed 3F Livestock.
Production capacity of 2 newly Farms
Accordingly, these are all extremely modern Livestock Farms that BaF has invested abundantly in barn technology with modern standards of the world, equipped with a technology system transferred from the largest corporations in Europe and America such as AP, Cristal, Skiold, Big Dutchman…
With modern husbandry technology, BaF's Farm model is designed to ensure optimal Livestock density, stable temperature to help focus absolutely on biosecurity factors; automatic feeding system helps to manage bran quantity well and avoid waste; fecal drainage system, wastewater treatment minimizes negative impacts on the environment, effectively reuses wastewater… towards sustainable development. Thereby minimizing losses, improving productivity and reducing Livestock costs, increasing the competitiveness of BaF in the market.
Presently, BaF has owned a system of 15 sow and meat pig Farms spread across the country and continuously expanded to reinforce the vision of becoming one of the top 5 Livestock companies in Viet Nam. Accordingly, in 2023, BaF is steadfast with its vision to complete and put into operation a network of 35-40 Farms across the country. In order to do that, in addition to core factors such as strong and sustainable financial capacity as well modern closed breeding technology, BaF also has a core competitive value that is superior to many other companies in the same industry when owning a really large Land Bank. Stretching from the North to the South, BaF has consolidated its position as a leader when having and will access a land bank of more than 3,000 hectares, serving to maintain and expand the scale of Livestock husbandry – production in a series of provinces and cities such as Binh Thuan, Binh Phuoc, Tay Ninh, Phu Yen, Thanh Hoa, Nghe An, Vinh Phuc….
Accordingly, with a vision to 2023, BaF plans to build the total output of sows to reach 65,000 heads, the volume of commercial pigs sold through channels to meet the consumption demand of clean and delicious pork of the country. The market reaches about 1,560,000 heads of pigs/year. Particularly in 2022, BaF Vietnam will put into operation 5 breeding Farms, including 2 sows with a capacity of 5,000 sows/Farm and 3 commercial meat Farms with a capacity of 30,000 pigs/Farm. Many financial experts believe that nine large land banks have created a strong "position" to help BaF accelerate production scale, thereby occupying the potential pork market.
In terms of finance, Accumulating the first 9 months of 2021, BaF recorded revenue of VND 9,065 billion, up 8% over the same period. Profit before tax reached VND 297 billion, 8 times higher than the same period last year. In 2021, thanks to an effective business strategy, the Company is expected to earn a pre-tax profit of more than VND 400 billion.
Previously, on December 3, 2021, the Ho Chi Minh Stock Exchange (HoSE) held a ceremony to award the listing decision and list 78 million BAF shares into trading. Since then, BAF stock has continuously attracted the attention of the market when it increased by 185% from the reference price of VND 20,000/share on the IPO day to VND 57,000/share on January 12, 2022.
For details please contact:
Investor Relations Department
Email: ir@baf.vn