Revenue and Gross Profit Margin from the livestock segment in 1Q2022 increased by 73% and 2% y-o-y, respectively. Net profit margin increased sharply to 6%.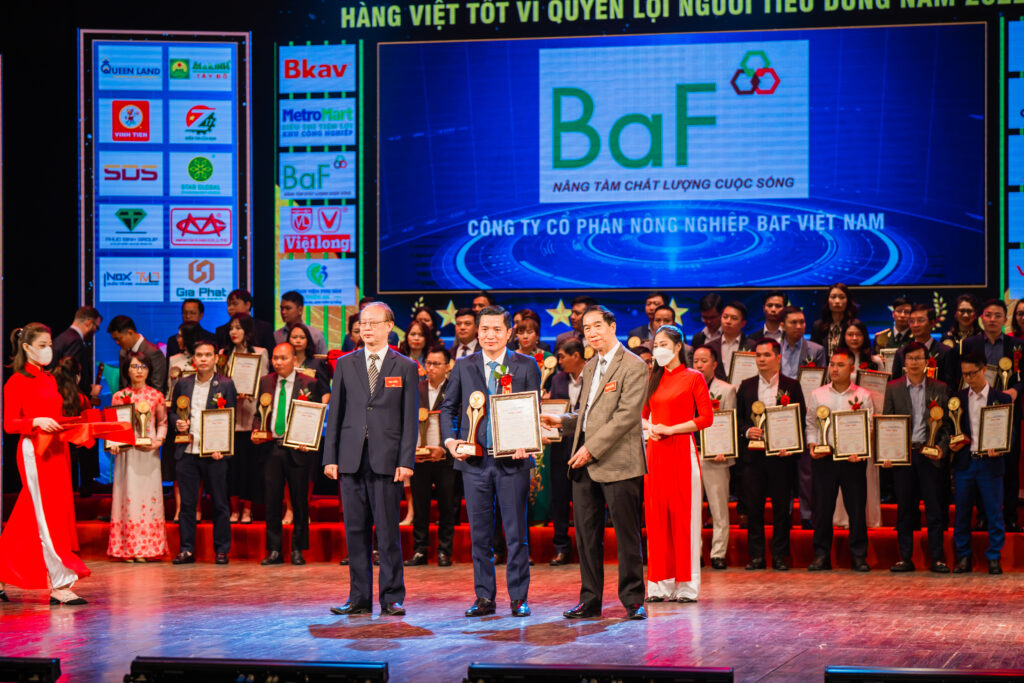 BaF Vietnam Agriculture Joint Stock Company (BaF, Company) has just released Consolidated Financial Statements for 1Q2022 with an impressive financial overview of sustainable revenue and profit from the livestock segment. As one of the leading modern animal livestock applying the closed 3F model, the production and revenue from livestock have continuously recorded strong breakthroughs in recent times. Consolidated net revenue in 1Q2022 reached VND1,538 billion, coming from revenue from livestock and revenue from agricultural products. The sharp increase in pork sales as of the first months of the 2022 boosted revenue from livestock to reach VND294 billion, increase 73% over the same period. Revenue structure in 1Q2022 observed a positive change when revenue from livestock accounted for 19%, 7% increase compare to the same period, realizing a swift in the strategy of becoming a top livestock corporation which applying 3F model in Vietnam.
Source:BAF
The reduction in the proportion from the agricultural segment according to the policy of the Company's Board of Directors has made COGS decrease by 41% over the same period. Gross Profit Margin (GPM) in 1Q2022 reached 9%, a sharp increase compared to 5% in the same period last year. Gross profit margin from livestock segment reached 34%, up 2% over the same period last year. SG&A expenses and selling expenses recorded a boost over the same period when continuously developing modern pig farms and animal feed factories. Presently, BaF has put into operation 15 modern sow and meat pig farms spread across the country and 2 feed fatories. Profit before tax and profit after tax in 1Q2022 were recorded at VND104 billion and VND88 billion, respectively. Net profit margin reached nearly 6%, much higher than 3% of the whole year of 2021. EBIT and EBITDA margin reached 7% and 8% respectively, which was much higher than the same period, proving efficient in operation, cost control & operational expenses.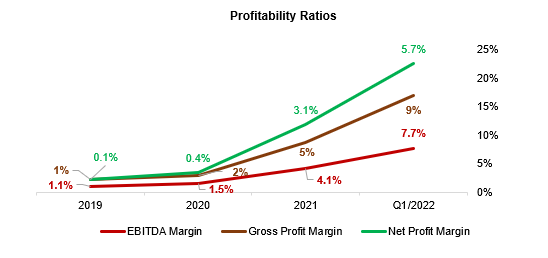 Source: BaF
As of March 31, 2022, BaF's total assets recorded VND4,149 billion, a slight decrease of 4% compared to the beginning of the period due to the collection of receivables. Short-term receivables dropped sharply by 54% to only VND 1,303 billion when BaF actively collected debts, concentrated resources to invest and expand the farm system. Inventories reached VND1,254 billion, increased by 15% compared to the beginning of the period. Inventories included Sows and pork which will be launched into the market in the upcoming months to satisfy the increasing demand for clean pork in recent times. Fixed assets recorded VND566 billion, up 5% when BaF put into operation a series of modern farms last year. In the direction of increasing the size of the barn, BAF is going to put into operation 2 Anh Vu Phu Yen and Green Farm 1 modern farms with the scale of 5,000 sows and 30,000 meat pigs. Therefore, construction in progress was recorded at VND316 billion, up 27% compared to the beginning of the period. Short-term and long-term loans increased to VND265 billion, slightly increased compared to the beginning of the period to meet the increase in herd size, investment in equipment and modern farms. However, BAF's financial ratios reflect sound financial health, with the current ratio and quick ratio reaching 1.2 and 0.7 times respectively. The ratio of Debt/Total Assets is only 0.17 times.
For the remaining months of 2022, BAF is expected to put into operation one more animal feed factory, bringing the total capacity to 460,000 tons/year, aiming to commercialize. Besides, the Company is expected to put into operation 7 more modern farms in Thanh Hoa, Nghe  An, Binh Dinh, Phu Yen and Tay Ninh, ranging the total scale to 21 modern farms. Total capacity is expected to be up to 27,000 Sows and 200,000 pigs to provide clean, high-quality pork to consumers. In addition, With the act of put into operation 2 modern Dutch slaughterhouses as total capacity of 480 heads/hour which will allow BAF to have self-sufficient in supplying pork and added products.
Orienting the development from the Board of Directors along with impressive business results, Phu Hung Securities Joint Stock Company has recommended to buy BAF Stock with a target price of VND 76,000.