On February 23, 2023, the Strategic Partnership Announcement and Signing Ceremony of the Investment Agreements between the International Finance Corporation (IFC) and BaF Vietnam Agriculture Joint Stock Company (BaF, the Company) took place at Vinpearl Landmark 81. The signing ceremony was attended by Mr. Truong Sy Ba – Chairman of the Board of Directors (BOD) of the Company; Ms. Bui Huong Giang – Member of BOD cum CEO; Mr. Samuel Dzotefe, Senior Manager for Manufacturing, Agribusiness and Services – Asia at IFC and Senior Leaders from both Companies.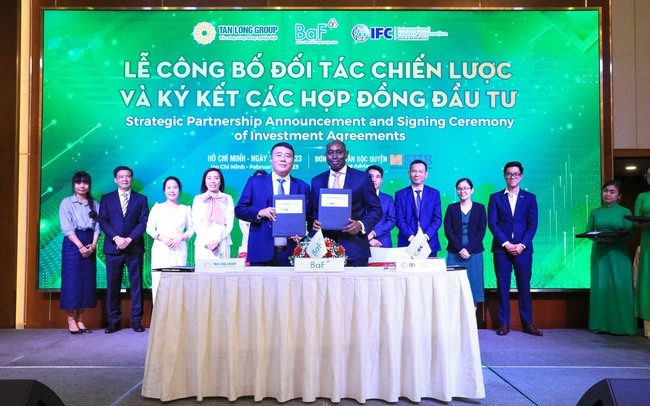 Mr. Truong Sy Ba – Chairman of BaF (on the left) and Mr. Samuel Dzotefe – IFC Senior Manager for Manufacturing, Agribusiness and Services in Asia singed Investment Agreements
IFC – a member of the World Bank Group – is the largest global development institution focused on the private sector in emerging markets. Supporting the livestock sector is a key focus of IFC's engagement in Vietnam, in response to the African Swine Fever (ASF) outbreak which significantly reduced pig numbers in the country and disrupted the supply of pork – a primary source of protein – to consumers.
IFC aims to invest in modern livestock farming enterprises that pursue integrated production with high biosecurity and production standards to promote an increase in the supply of safe pork. In Vietnam, BaF is a leading livestock producer applying a clean food ecosystem – the 3F FEED-FARM-FOOD model. BaF has completed the 3F chain by owning 23 Modern Farms with a total herd of 200,000 pigs; 2 Animal Feed factories with a capacity of 260,000 tons/year, and has obtained GLOBALG.A.P. CFM 3.0 and FSSC 22000 V5.1 food safety management system certifications. The company also has a food distribution chain with about 60 Sibafood stores and 300 Meat Shops.
On February 20, 2023, the State Securities Commission approved BaF's private convertible bond offering. This is one of the final procedures to complete the IFC's investment in BaF.
IFC will provide an investment package of up to VND600 billion in convertible bonds and VND300 billion in bonds issued by BaF, totaling approximately US$39 million equivalent. The proceeds collected from the offering will be used to support the growth of modern livestock farms with high quality genetic breeds, animal feed factories, clean meat processing facilities and slaughterhouses.
Ms. Bui Huong Giang – Member of BOD cum CEO, said: "The collaborative efforts between BaF and IFC aim to support the growth of BaF's livestock farming, animal feed factories, and food processing which under construction and future development in Vietnam, through a financial package that has been agreed upon. With the guidance and support of IFC, BaF will gradually transition from individual animal breeding to group breeding, ensuring compliance with requirements for health and biosecurity,  animal welfare, efficient use of resources, and protection of natural biodiversity and food safety. Other activities within the complete livestock supply chain, such as feed production, transportation, slaughter, and distribution, are also ensured to comply with the highest global standards of IFC."
Mr. Samuel Dzotefe, IFC Senior Manager for Manufacturing, Agribusiness and Services in Asia said: "By supporting companies like BaF, we are promoting the development of more efficient and sustainable local private enterprises along the agribusiness supply chain. This will help boost competition and improve farming standards, supporting the food sector's continued modernization and implementation of international best practices." 
IFC's funding and technical assistance will help BaF improve its implementation of environmental and social  standards in business operations towards sustainable development goals through ensuring environmentally friendly conditions and safe working conditions for employees; setting up and implementing animal welfare practices in line with  international standards such as group sow farming, using antibiotics responsibly as recommended by the World Health Organization and other policies; efficiently using natural resources and minimizing the impact of project activities on the environment, and providing consumers with clean, high-quality, and safe "Vegetarian-fed Pork" products. In addition, BaF will enhance its corporate governance by adopting international standards. These improvements will contribute to the realization of BaF's strategy to become one of the Top 3 leading livestock companies in Vietnam.