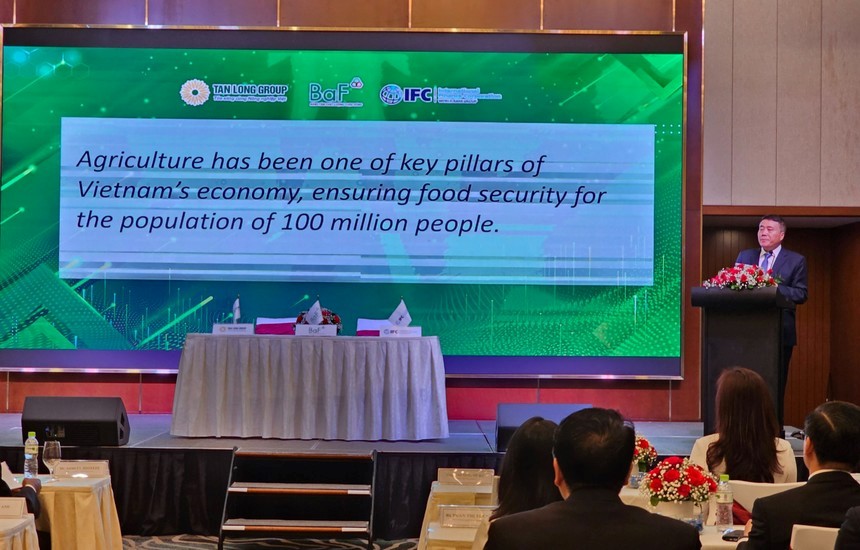 On March 21, 2023, BaF Vietnam Agriculture Joint Stock Company (BaF, Company) issued a Report on the successful issuance of the private convertible bond for the International Finance Corporation (IFC) – a member of the World Bank.
This is the first disbursement of IFC into BAF, part of a total financing package of VND900 billion, equivalent to approximately USD39 million, including VND600 billion in convertible bond and VND300 billion in regular bonds for BAF.
The above financing package will support the growth of livestock farms and genetics that BAF has been and will be planning as well as developing animal feed factories and clean meat processing and slaughtering factories.
Dong An Khanh High-tech Pig Farm
Recently, BaF has put into operation the Dong An Khanh high-tech pig farming, which can be considered a Green farm as it owns a modern wastewater treatment system, advanced treatment techniques, and a water circulation rate of about 90%, meeting the highest standards of the Ministry of Natural Resources and Environment and the Ministry of Health.
According to statistics, Vietnam is the world's top consumer of pork and second in Asia. However, the majority of the market share is still beyond small-scale farmers that using outdated technologies. These traditional farming models have negative impacts on the environment and are vulnerable to factors such as rising feed prices, breeding stock, and diseases.
In addition, pork is distributed to consumers through traditional channels that are not verified for origin and meat quality, causing concerns about food safety and hygiene.
For BAF, to cooperate and receive funding from IFC takes more than 1 year for due diligence. According to BAF, IFC has been and will support BAF in improving ESG (Environmental, Social, and Governance) standards and promoting sustainable professional farming. With long-standing experience, IFC will support BAF in applying professional farming techniques such as building and implementing animal welfare in compliance with international standards, such as group breeding of sows and responsible use of antibiotics according to WHO recommendations. This ensures the goal of developing scale and protecting the environment.
BaF's under development and future development, in addition to complying with Vietnam's regulations, will have to ensure IFC's environmental protection standards.
According to BaF, it is customary for IFC to nominate a member of the Board of Directors (BOD) to companies with investment capital. IFC is expected to nominate an independent BOD member at BaF's upcoming annual general shareholders meeting. The presence of an independent BOD member is expected to contribute to the improvement of animal husbandry technologies, management practices, and gradually apply good international practices in management such as the Viet Nam Corporate Governance Code of Best Practices.
In terms of finances, the commitment to maintaining financial ratios at a safe level will minimize potential risks and ensure financial health for BaF's development. In October 2022, BaF changed  domestic audit firm to Ernst & Young – one of the leading audit firms – to audit the 2022 financial statements in order to increase transparency.
As of now, BaF owns 28 farms including 17 operational and 11 under development, spanning across the country. BaF plans to increase the number of farms to 40 based on its available land fund. IFC's investment has supported timely financial resources to serve the overall expansion strategy and animal farms in particular.