Given that the distribution system plays an essential role in supplying clean, safe clear sources of origin food to consumers, BaF has developed dozens of Siba Food stores and hundreds of Meat Shop counters nationwide.
With the ambition of becoming one of the top 3 livestock companies in Vietnam, BaF Vietnam Agriculture Joint Stock Company (BaF, Company) has come up with many important strategies to further develop and strengthen the intrinsic value of the 3F model (Feed – Farm – Food) that BaF is stronger than many other competitors. Specifically, to "Food" part of the model, BaF is developing its own distribution channel by continuously expands Siba Food Stores and Meat Shop counters nationwide to distribute BaF Meat products to consumers directly from a result of close process from "farm to dining table"
"Food" – the essential part of 3F Model
BaF Meat products are clean and safe from a closed livestock chain. All steps from processing to transportation are strictly controlled by BaF from the factory to the retail counters to remain the best quality to the consumers.
From July 2022, BaF will start to distribute chilled pork products with traceable origin. This is a strong commitment from BaF Vietnam in supplying clean and safe pork products to the community.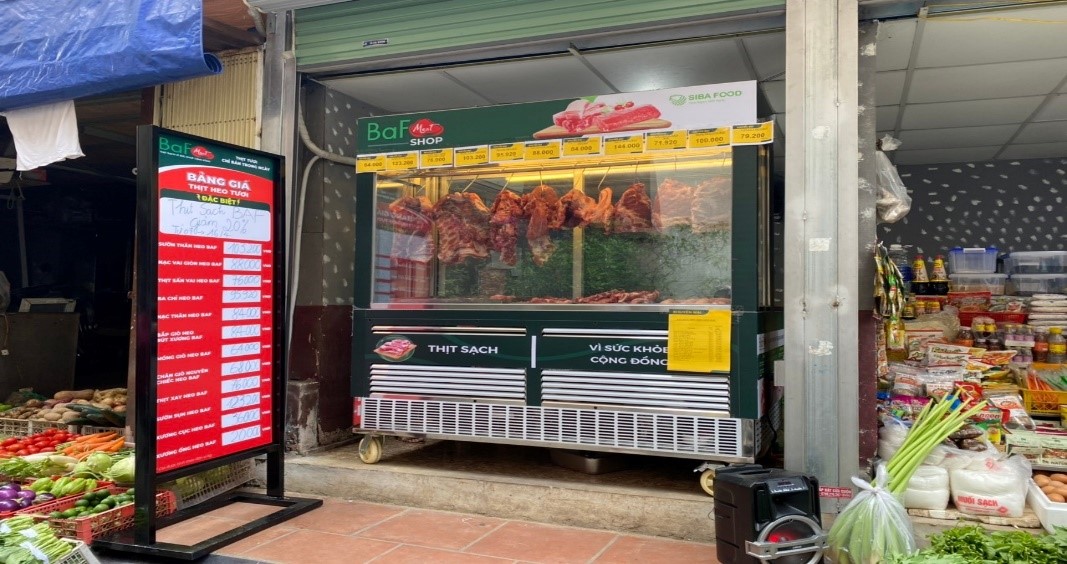 Pork is stored in the refrigerator, maintaining a temperature of 0-4°C to keep fresh for the meat
BaF's clean, fresh and high-quality pork has been distributed through the Siba Food distribution system. This "Modern Minimart – Traditional Market Meat Shop" model is a very creative way to approach customers diversely from Modern Trade – Modern MT (small supermarket, Siba Food) to General Trade – traditional GT channels.
"Currently, the Siba Food distribution system has grown with nearly 50 Siba Food stores and 150 Meat Shops. BaF expects to expand its distribution network to 116 Siba Food stores and 1,116 Meat Shop counters in 2022. Vision to 2030, Siba Food will own the largest chain of food stores in Vietnam with 1,500 Siba Food stores and 15,000 Meat Shop counters." said BaF's representative.
Additionally, from June 2022, BaF has co-operated with Sendo, a well-known retailer in the e-commerce industry to sell BaF pork products online.
BaF Meat Shop – a smart and unique clean pork distributing model.
Realizing the fact that consumers behaviour is still purchasing food and grocery goods in traditional markets and residential areas, BaF has developed specialized Meat Shop counters covered with glass to avoid dust and equipped with cooling systems to maintain cool temperature stabilized at 0-4°C, thank that, pork will be kept fresh all day long.
With this distribution model, Siba Food stores will act as distribution centers for BaF Meat Shop counters. Within a radius of 3 km around each Siba Food store, there will be 10 to 12 high-quality Meat Shop counters, located at traditional markets and residential areas. By choosing these locations, the purchasing will be much more convenient for the consumers by just taking a few steps out of the alley to buy clean, fresh, and quality pork without having to go to supermarkets and hypermarkets.
Each Meat Shop counter will be over seed by an employee of Siba Food to make sure that there are no other pork with no quality control or untraceable origin entering the counters, this mobile Meat Shop counters development strategy will help Siba Food achieve many strategic goals as follows: increasing the coverage of BaF meat in the MT and GT channels, thereby expanding the market share of BaF Meat.
The Advantage of owning a closed food chain "from farm to dining table"
BaF with experience in developing completely closed process according to the 3F model (Feed – Farm – Food), owning and developing all different parts in the process including nutritional feed sources, livestock, and modern processing plants to the distribution chain. All are closed, synchronous and large-scale.
Not only that, BaF is also focusing on investing in an ERP system to manage a closed livestock ecosystem, operating for the traceability from seed, feed, care, processing, and distribution, until when the products are delivered to the consumer, ensuring a "from farm to dining table" closed process. Consumers will be able to consume CLEAN pork that is fresh, delicious, nutritious, reasonably priced and of clear and traceable origin.
For more details please contact:
Investor Relations Department
Email: ir@baf.vn